Discover more from The Post-Evangelical Post
Home of the Exvangelical podcast & a newsletter about belief, tech, & society—with a focus on US white evangelicalism.
Over 2,000 subscribers
Coming Soon: Powers & Principalities
A new podcast focused on the systems & institutions that propagate white evangelical & Christian nationalist power.
Four years ago, I started the podcast Exvangelical with the intent of exploring the reasons why people leave evangelicalism. It has been one of the most rewarding and challenging experiences of my life. It was not the first project or podcast to explore the damaging effects of white evangelicalism on individual lives, and it will not be the last. In fact, there has been an explosion of public voices and communities that meet the myriad needs of people coping with religious trauma, purity culture, racism and sexism, in all the permutations they have taken in our lives. Each work, whether it is a podcast or a YouTube channel or a Facebook group or a blog or an Instagram account, has its own goals and audience in mind, from fostering a queer spirituality to creating atheist and anti-theist content for people who've left conservative religion.
Yet in 2020, it is now more essential than ever to contextualize the systems and institutions that propagate white evangelical & Christian nationalist sociopolitical power. While the assumption in mid-July 2020 is that Trump is not viable for re-election given his incompetent response to the coronavirus pandemic, his cruel racist responses to the ongoing protests for racial justice and police abolition, and double digit unemployment—that gives us no less reason to stay vigilant. Christian nationalist groups are well-heeled and well-connected in the halls of power, and are well-funded by groups intent on hoarding power for as long as they can. While we continue to use our voices, all of these ex & post-evangelical projects pale in comparison to the lobbying force of Christian nationalists.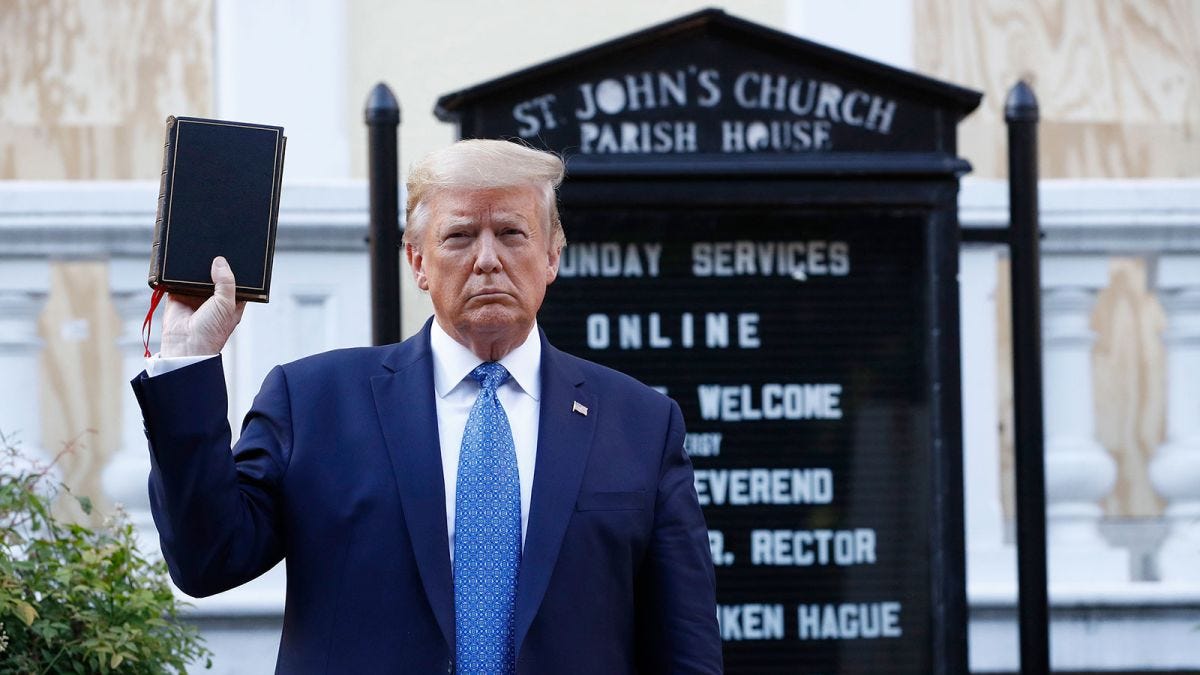 To that end, I am developing a new podcast series called Powers & Principalities to examine the role these powerful systems and institutions have in the lives of Americans and citizens around the world. In the first season I will speak to authors, academics, and experts whose work has focused on topics like the Religious Right, Christian nationalism, the Christian reconstruction movement, and Trump's appeal to white evangelicals.
A note on methodology and scope
This project is built by me, a cis white male. I will choose the guests who will appear on the show based on their expertise on white evangelicalism and Christian nationalism, as well as the timeliness of their books and projects. I welcome input from readers and listeners about potential future guests and topics, as well as any feedback about how these topics are discussed and framed. I have no funding other than the small number of patrons to Exvangelical and paid subscribers to this newsletter. I hold a full-time job and have a family, and will be navigating the same sort of uncertain landscape of e-learning and working from home as millions of others for the foreseeable future. But I believe this work—of creating accessible content for a broad audience that reveals the extent of white evangelical power—is important, and will do all I can to make the best possible show I can under these circumstances.
Throughout this show, I will not shy away from discussing the Christian nationalist links to white supremacy, the pervasive racism found in American Christianity, and the necessity of anti-racist education and action. I also acknowledge that I do not have the nuance, expertise, or lived experience to discuss these topics with the authority others already creating content can.
If this series is met with success, I hope to dedicate an entire season or more to the topic of racism specifically . If that is the content you are looking for right now, please listen to podcasts like White Homework by Tori Douglass, Hope & Hard Pills by Andre Henry, The Next Question by Austin Channing Brown, Chi Chi Okwu, Jenny Potter, and Freedom Road podcast by Lisa Sharon Harper.
If I am able to responsibly compensate people for this type of work in the future, I hope to do it—because racial justice, learning anti-racism, and the lifelong journey of people from white evangelical backgrounds working to unlearn their whiteness and join the struggle alongside others building a better present and future is essential work that will never stop being relevant—but these projects already exist and deserve your attention and support.
Follow along and support the work right here
Look for the first episode to drop in late August 2020, and keep reading here for more details. Prior to the late-August launch, an episode 0 will be published featuring an interview with Diana Butler Bass, in the coming weeks. The conversation was surprising, and bridges these two projects perfectly.
You can support this newsletter and the podcasts by subscribing today. Just follow the link below and get 20% off forever.