Discover more from The Post-Evangelical Post
Home of the Exvangelical podcast & a newsletter about belief, tech, & society—with a focus on US white evangelicalism.
Over 2,000 subscribers
Introducing the Irreverent Media Group
A new podcast collective!
Today is a HUGE day. It's launch day for Irreverent Media Group, a new podcast collective:
Irreverent Media Group is a new podcast collective that I am a part of, alongside several other podcasters working on similar projects. I shared a little bit about this on Twitter in this thread: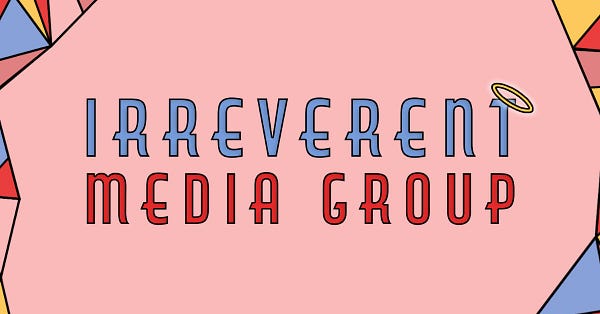 irreverent.fm
Irreverent Media Group
A new podcast collective
The following press release was published today, highlighting the variety of creators in our initial slate of shows:
For Immediate Release
The Irreverent Media Group (IMG) is a new podcast collective started by ex- & post-evangelical creators. As the first network centering former evangelicals, IMG's lineup of shows will guide listeners from the first moment of their deconstruction to the ongoing process of renewal. 
"Our shows offer a range of content - from what to expect after leaving evangelicalism, to in-depth analysis of current events, to pop culture chatter." said #Exvangelical and Powers and Principalities creator Blake Chastain. 

"The goal is to deliver content from A to Z in the deconstruction process," said Josephine Jael Jimenez, co-host of Making Spaces. 
The IMG Lineup
#Exvangelical by Blake Chastain
A Tiny Revolution by Kevin Garcia
White Homework by Tori Douglass 
A People's Theology by Mason Mennenga 
Powers and Principalities by Blake Chastain 
 Your Favorite Aunts by Sarah Heath and Kevin Garcia
Making Spaces by Sarah Heath and Joseline Jael Jimenez 
The Dirty Rotten Church Kids by Adrian Gibbs and Josh Link 
Go Home Bible, You're Drunk by Tori Douglass and Justin Gentry
Straight White American Jesus by Bradley Onishi and Daniel Miller 

IMG will hold a virtual launch party on April 18th at 9pm EST. Register here.
---
Some Personal Thoughts on IMG
Independent podcasting is a funny thing. You start out with an idea and you put it out into the world, unsure if it's going to find an audience. Sometimes it does, often it doesn't, and there's a whole lot of time when making content online is somewhere in the middle.
You make content—whether it's a podcast, a newsletter (née blog), an Instagram account, a YouTube or TikTok channel, a book—because something draws you to it. And if you aren't already working for a major network/studio as a journalist or entertainer, you're not sure whether you'll ever make enough to do it full-time. But you keep it at it.
This isn't a new story - it's just changed as both audiences and creators move online. And like every other aspect of our lives, the pandemic has exacerbated it all, and made it hard to create content on top of all the other things demanding our attention and energy. And we all know how much trauma and grief the pandemic has foisted upon us.
Something people might not know about indie podcasting is that if you have a smaller/niche audience, and you haven't successfully monetized through Patreon or something else, the rule of thumb for ads is that you must reach around 10k downloads/episode in order to appeal to sponsors. In a crowded, noisy podcast world, that puts you in rarified air. For some sample data, look at BuzzSprout's published stats about their platform: they host over 100k podcasts, and if your podcast gets ~3,200 downloads within a week, you're in the top 1% of shows. Now triple that.
The other thing that differentiates indie podcasting is that dynamic ad insertion (simplified: podcasting's version of AdSense) isn't broadly available through a platform like AdSense. Access to those marketplaces can be costly for a single creator with limited support or capital.
By banding together in IMG, we are able to share access to resources we would not be able to access on our own—in addition to all the cross-promotion and other things we can do together.
I'm really pumped about the possibilities ahead. I'll be sure to share those thoughts here, and let you know when we'll be doing more events to promote post-evangelical perspectives.
I'll keep you posted.